Firmwin is leading supplier and exporter of equipment used to process rib lath, hi ribbed lathe and expanded metal sheets.
Major machines include:
Hy- Rib formwork mesh machine for manufacturing hy-rib formwork mesh of all sizes;
Rib lath machine for manufacturing of expanded rib lath mesh of all sizes;
Expanded metal machine for manufacturing of expanded metal diamond mesh.
HY-RIB FORMWORK MESH MACHINE LINE, FULLY AUTOMATIC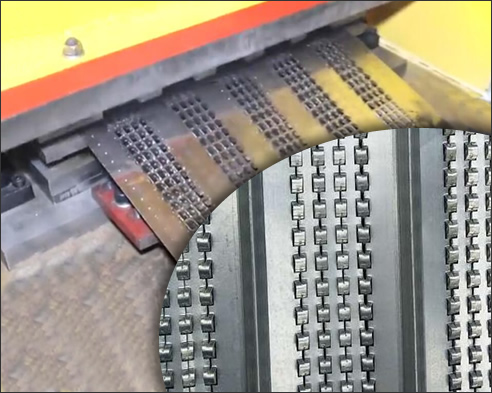 Rib formwork mesh machine for manufacturing hy-rib formwork mesh for concrete
Main processing:
Manual de-coiler - Electric Feeding - Motor feeding - Roll Forming Machine - Computer Control Cabinet - Automatic cutting Mechanism - Run-out Tables
Main parameters of machine
Press Capacity: 120tonnage
Floor space:25m X 2.5m
Machine Width:1.5m
Machine Length:20m
Material:Galvanized
Material Width:600m,700m,900m
Material Thickness:0.36mm
Formwork Mesh Products

RIBLATH MACHINE SETS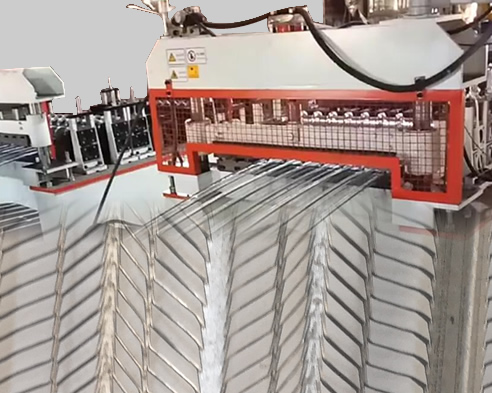 Light type rib lath machine for production of expanded metal rib lath for plaster backing
Feeding trolley - un coiler - expanded machine - roll profiling machine - hydraulic rib lath shearing machine - control cabinet - Tooling, etc
Material:
1) Suitable Coil Thickness: 0.5mm
2) Suitable Raw Material: Galvanized steel sheet
Main components including:
Roll forming machine 1 set
Hydraulic cutter 1 set
Electrical control system 1 set
Hydraulic system 1 set
Hydraulic de-coiler 1 set Max. loading 5 T
Hydraulic De-coiler
Single - head de-coiler, unilateral discharge
Using electric
pressure internal intensify
Max. loading weight : 5 tons
Max. coiling diameter: 1800mm
Cylinder diameter: 120mm
Working pressure: 10mpa
Coiling inner diameter: 450mm - 800mm
Main roll forming
Main engine power: 15KW
Structure: Welded plate
Drive: Gearbox driving
Spindle diameter: Φ80mm
Material : Gcr12 quenching and tempering treatment
Roller material: GCR12 Quenching to 58°-62°
Surface plating treatment
Stations: About 10-15 stations
The unit adopts frequency conversion 5m-10m/min
(excluding punching time)
Computer PLC control, operation panel with touch screen display
Main products
Metal rib expanded and roll formed to be the special lath applied to reinforce the wall reinforcement, providing backing for plastering.
EXPANDED METAL MACHINE
Expanded metal mesh machine can expand and stretch all kinds of steel and iron plate.

Expanded metal machine can be used for producing diamond lathing, corner beads and other metal mesh products.

Details on the machine ordering:
1.Sheet thickness and material used
2) Patterns of Rib lath or Expanded Metal produced.
3) Width and length of the input material required .
4)Width and length of the finished product manufactured.
5)Production capacity per Hour,
6)Space for installation and production
7) Power requirement.