High Ribbed Lath is a metal lath with expanded hi mesh and U patterns, offering better anti-stress capability and forming flexibility than common rib lath. This product is popularly used in joint construction and various concrete formwork. Hi Rib Lath is also called High Rib Formwork Lath or simply High Rib Formwork. High Ribbed Formwork Lath forms an enhanced mechanical key for the second phase concrete pouring.
EXPORT TYPES
High Rib Lath Panels, Hot Galvanized, HR 2.44x0.61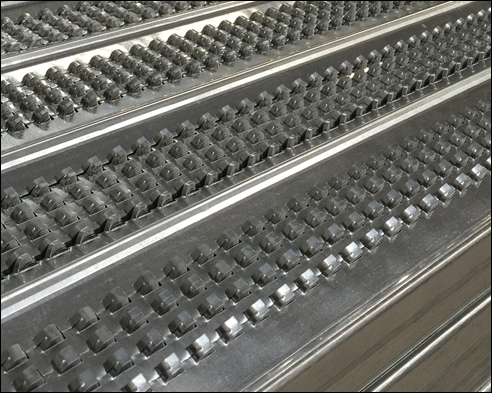 Hy Rib Lath Expanded Metal
Surface treatment: Hot Galvanized
Color: Silver
Feature: Corrosion Resistance
Length: 2.44 m x Width: 0.61 m
Sizes can be customized
For bridge construction.
Galvanised High Ribbed Mesh Lathing, HR 12x8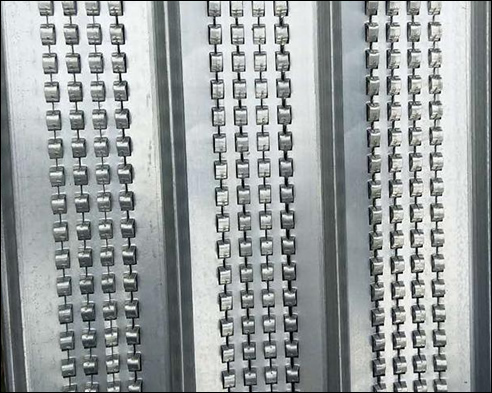 Hi ribbed mesh type, 0.30mm thickness, 12x8, rib height 5mm, rib distance 100mm, lath width 610mm
Hy Formworks Lath, HR 7/8 inch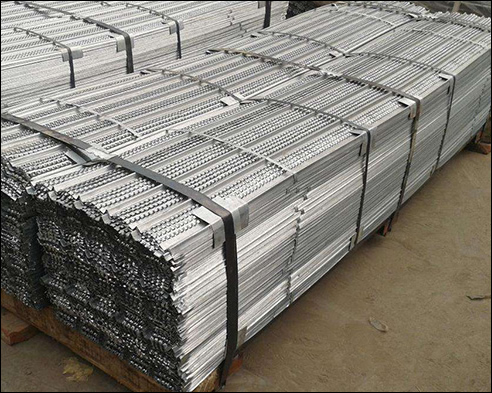 Hy rib type: 3.4 hy rib lath (7/8") used in concrete forming
Popular in USA market
Available in gal. steel and stainless
Hy–Rib Expanded Formwork ( Galvanised ), HR450 x 22 x 28
Hy rib formwork:
Specification: 450mm width, 2200mm length, 0.28mm thickness
Material: Galvanized mild steel
Mesh type: Hy rib expanded
Weight: 2.3kg/pc
Singapore
Hi Rib Lath, for Tunnel Forming, HR450 x 2200 x 23
Hi rib mesh, hot dip galvanized
Material: Q195/SGCC
Finish: Hot dipped zinc coating galv.
450mm x 2200mm x 0.23mm
Min. tensile strength:270N/mm2
For Indonesia tunnel forming template
PACKING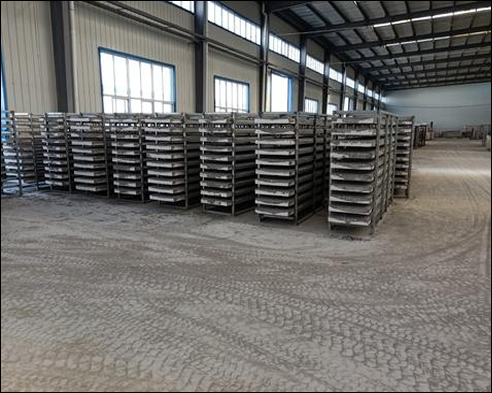 All our hi rib lath products are properly packed for sea transportation.
Common packing:
10pcs/bundle with 2 metal strapping, 5
bundles with 3 metal strapping, 90 bundles/pallet
Other packing and special packing upon request.
QUALITY STANDARDS
ASTM 653 standards,
BSEN 10327 standard,
BSEN 10088-2 type 1.4301 standard,
Other equivalent.
USING HI RIB LATHE FOR CONCRETE CONSTRUCTION WORKS
High Ribbed Lathe offers superior anti-stress capability, strength and forming flexibility compared with common ribbed lath.

Materials:
Galvanized steel metal sheets;
Stainless steel sheets.
Structures:
This high ribbed lath has longitudinal ribs, small inverted ribs and small herringbone meshes.
Features:
Hy ribbed structure;
Superior strength and spanning capabilities;
Excellent engineering quality and construction security;
Less formwork pressure, reduced overall support requirement;
Concrete is easier to see and monitor during pour process, hence the risk of trapped air and voids within the concrete is greatly reduced.
Fixing:
Hi rib lath is typically stapled, nailed or screwed to the substrate.
The hi ribbed expanded metal lath is widely used as permanent assembly free formwork lathing, in following construction works:
Tunnels bridges, valve basement systems, sewage systems, subways, retaining walls, nuclear power plants, shipyards;
Water pools and marine engineering works;
High rise building projects;
Irregular and bending pattern works;
Other concrete construction and reinforcements.
DESIGN DRAWING REFERENCES
Design Example of Galvanised Hy Rib Lath, Model 2200x450
Product Details:
Material: Q195/SGCC
Min. tensile strength: 270N/mm2
Finish: HOT-DIP GALVANIZED
Length: 2200±3mm
Thickness: 0.28(+0.05/-0.02)
Details per design reference and sectional drawing attached
COMMON SPECIFICATION LISTS OF HIGH RIB LATHING
Hy-rib Mesh Lath ( Specifications and sizes can be customized.)
Thickness (mm)
Weight (kg)
Width (mm)
Length (mm)
Rib Height (mm)
Rib Distance (mm)
0.21
1.70
450
2200
14-20
90
0.23
1.90
450
2200
14-20
90
0.30
2.48
450
2200
14-20
90
0.35
2.90
450
2200
14-20
90
0.40
3.30
450
2200
14-20
90
0.45
3.70
450
2200
14-20
90
0.50
4.10
450
2200
14-20
90